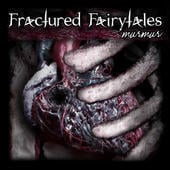 $

8.00
Though Fractured Fairytales is a thoughtform long in the making the Murmur album marked the birth of Fractured Fairytales to the masses of the world.
On 4th of July 2006, Fractured Fairytales unleashed their debut record Murmur. The bands first release quickly gained them national notoriety in the underground goth scene due to its deep, dark industrial structure punctuated with demonic out lashes associated to the death metal scene.
The Murmur album is the beholder of Fractured Fairytales' first hit track "Temple of Flies" and also contains 3 bonus tracks from the never released Fractured Fairytales demo record "The Ice Album".
Murmur Track listing
Temple of Flies
God Plug-in 4.0
Murmur
Deteriorating Souls
Corpse Rida
Dissipating Dreams
Burning Serenity
Necro Opus
Secular World
Solace

(Bonus - Ice Album tracks )
Above Ground Graveyard
Spirit Free Diet Dreams
Movie Maker
Runtime - 48:17